Secondary Glazing
Often the most vulnerable parts of a building are its windows, especially in Listed buildings with original single glazed frames.
With advanced security secondary glazed systems, windows can now be retrofitted with discreet units in a range of designs providing varying levels of security.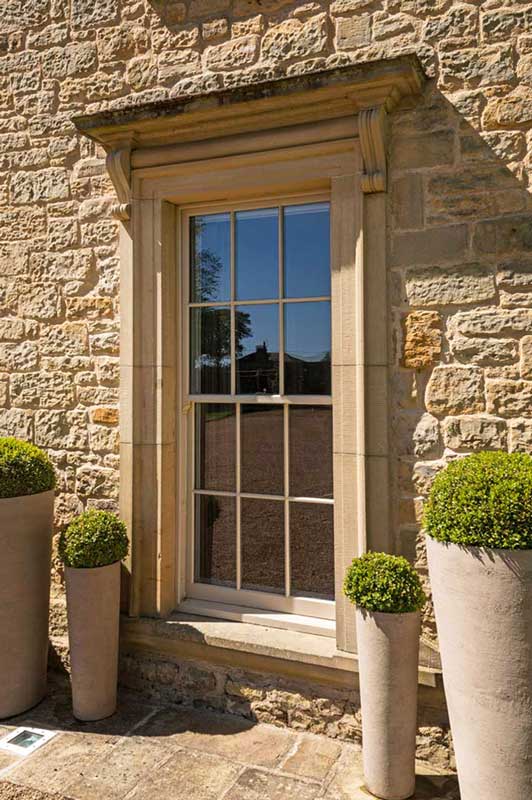 Secure Secondary Windows
Secure secondary windows are available in a range of styles including sliding sash, hinged casement, horizontal sliding and demountable fixed. All systems are made from aluminium extrusions and glazed with a range of laminated glass or glass polycarbonate composites for more challenging security needs. Opening units are fitted with secure locks and selected fixings anchor the frames into the building's fabric. In some instances this will require reinforcement of the reveal structure. The aluminium frames have a permanent paint finish that can be colour matched to compliment or match the existing décor.
An initial level of intruder security is provided by products successfully tested to the security requirements of PAS 24:2016 and awarded Police Preferred Specification under the Secured By Design initiative. Tests under this standard simulate a forced entry using both static loading and manual manipulation with a simple tool set. It does not involve breaking the glass and therefore replicates a stealth attack on windows deemed at risk. The inclusion of a laminated glass will act as a deterrent if the intruder does attempt to break the glass.
Additional levels of security
When additional levels of security are needed products approved to Loss Prevention standard LPS 1175 at levels SR1, SR2 or SR3 are much more appropriate. This more rigorous standard involves rigorous attacks on the frame and glass with both time and the severity of the tool selection increasing as the level increases. SR2 or SR3 products provide the same level of protection as heavy duty bars and grilles.
Blast protection
Blast protection is often required on significant Embassies and public buildings but there are often properties in the vicinity used for other purposes including residential that might suffer significant collateral damage from flying glass. Secure secondary windows have been range tested against a simulated vehicle bomb at distances from 45m to 15m and will provide very effective blast mitigation whilst at the same time providing good levels of intruder resistance.
All security units are designed, manufactured and tested by a well-established supplier, founded in 1966 and granted a Royal Warrant in 2004.
The demonstration video illustrates the blast glass response to an explosion and KSDW are the sole UK supplier for blass glass of this calibre.
Blast Glass Demonstration